Learning & Evaluation for Data Driven Decisions
Because your outcomes (i.e. measurable changes) don't achieve themselves
You believe the programs, initiatives, and work you're involved in are changing lives and improving the areas in which we live, work, learn, and play, but can you articulate their actual impact (collection of measurable changes)?
Drive Evaluation Studio has been trusted by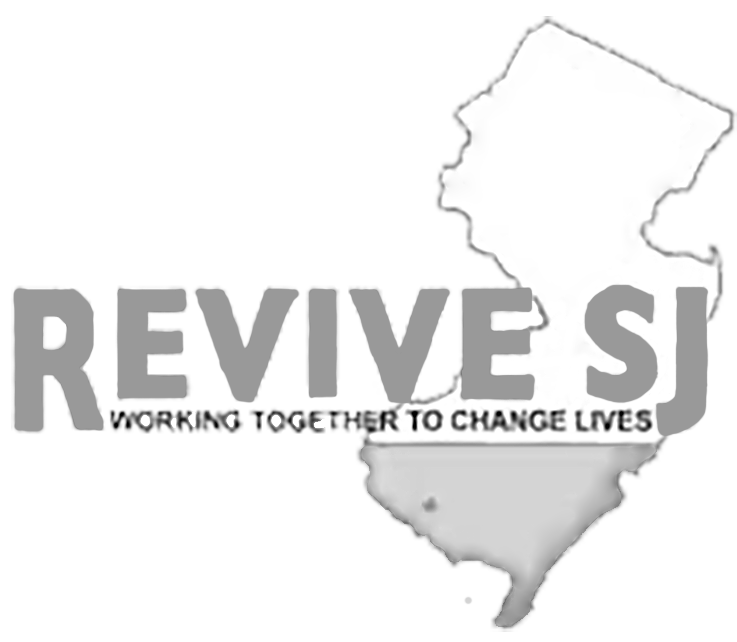 Do you know if your program had the intended outcome it was meant to have? Do you know if it is a good idea to continue the program or run it again?
Do you know what areas need to be improved or adapted to achieve the desired outcomes? Do your staff have the skills and resources to collect and analyze information about participants?
Does your development team have the narrative it needs to apply for additional funding? Can your team articulate the theory behind why your strategy will lead to your outcomes? Do you have program tools that maybe you don't know how to fully leverage? Do you have a hunch that you are not using all the information available to you?
Your stakeholders need to see how you affect change, and so do you. This keeps the work alive and progressing; it allows you to achieve your vision.
you're in the right place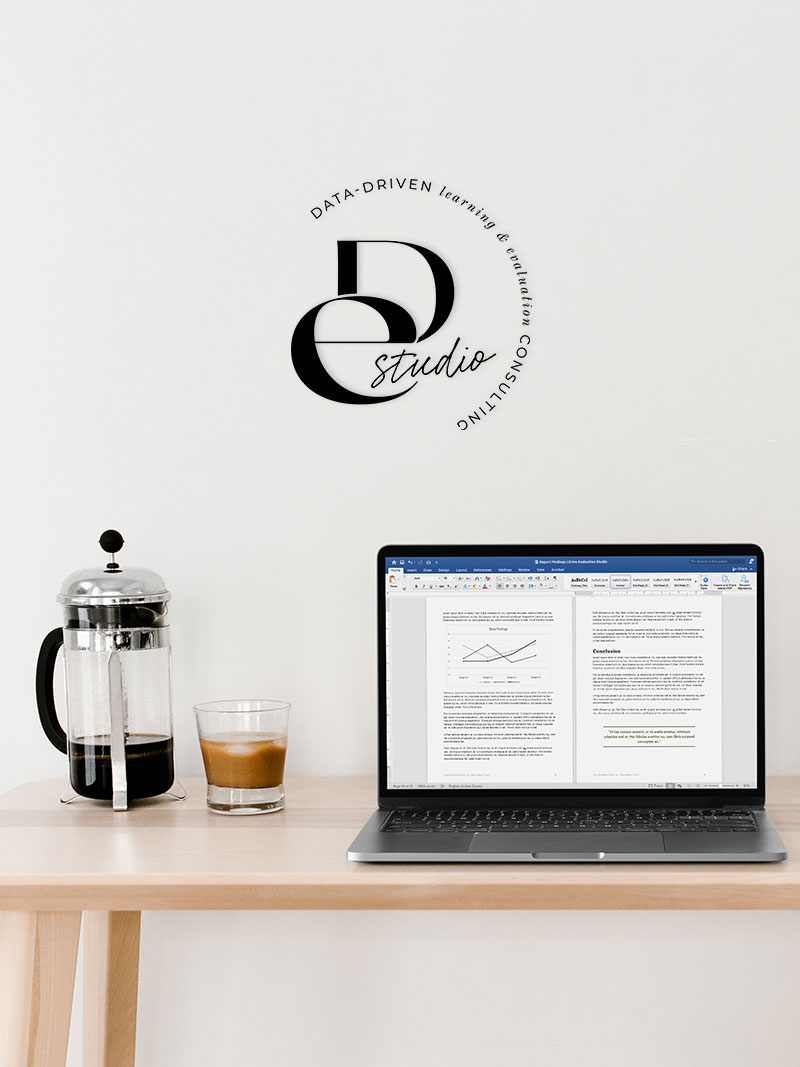 We understand the need for data-driven decision making, knowing your impact, and communicating your story.
Nonprofit and Social Sector Organizations
Typically direct service organizations doing work in their communities. These range in size, scale, content area but have something in common: they are mission-driven, they have a plan, and they work endlessly to achieve it.
Foundations and Philanthropy
Committed to providing funding and support to the social sector, the foundations with which we work are thoughtful about their investments, responsive to their grantees, and passionate about their impact.
Universities can be big, complex places. Our higher education partners are usually specific programs and/or departments focused on college access, enrollment, retention, and student success.
The studio creates customized engagements for each client. We will create a project that makes sense for your organization, responds to your context, and is rooted in data to help you do your work better.
If you are not sure which type of engagement is best for your needs after reviewing our services, reach out for a consultation. We will figure it out together.
Delivering individualized program evaluation consulting to help you figure out if you are accomplishing what you set out to do.
We understand the need for connecting the dots between your work, learning from your efforts, and achieving and communicating measurable changes.
Typically a 12 to 18 month engagement, evaluations commonly consist of data gathering, in-depth analysis, collaborative conversations, and presentation and discussion of findings.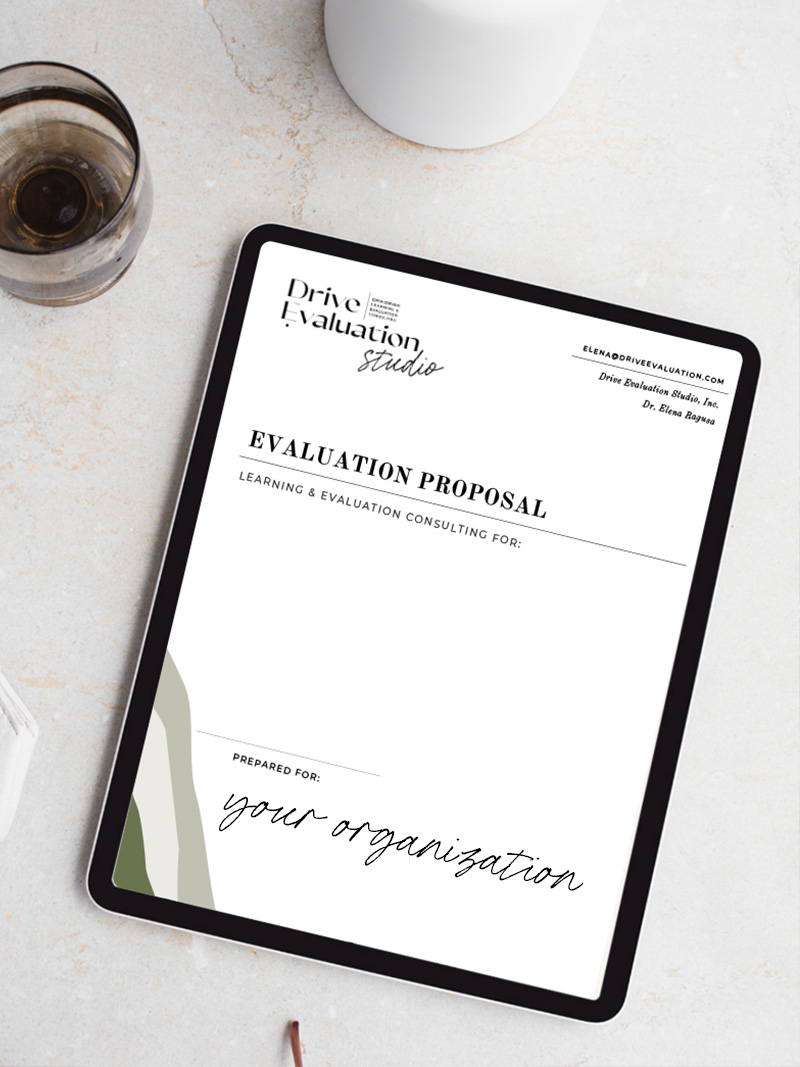 A GOOD FIT FOR YOU IF:
You need to better understand what is working about your programming, how to tweak your efforts to maximize your impact, and what story to communicate to your stakeholders.
Evaluation Training & Capacity Building
Evaluation training and capacity building engagements are a true blend of theory and action.
They are the marriage between theoretical knowledge in evaluation and evaluative thinking with practical application – how to use what we learn in the classroom to what we do in the field to improve our work.
The engagements are designed to meet participants where they are and move them to the next level of evaluative thinking, technical expertise, and/or interest and knowledge of evaluation.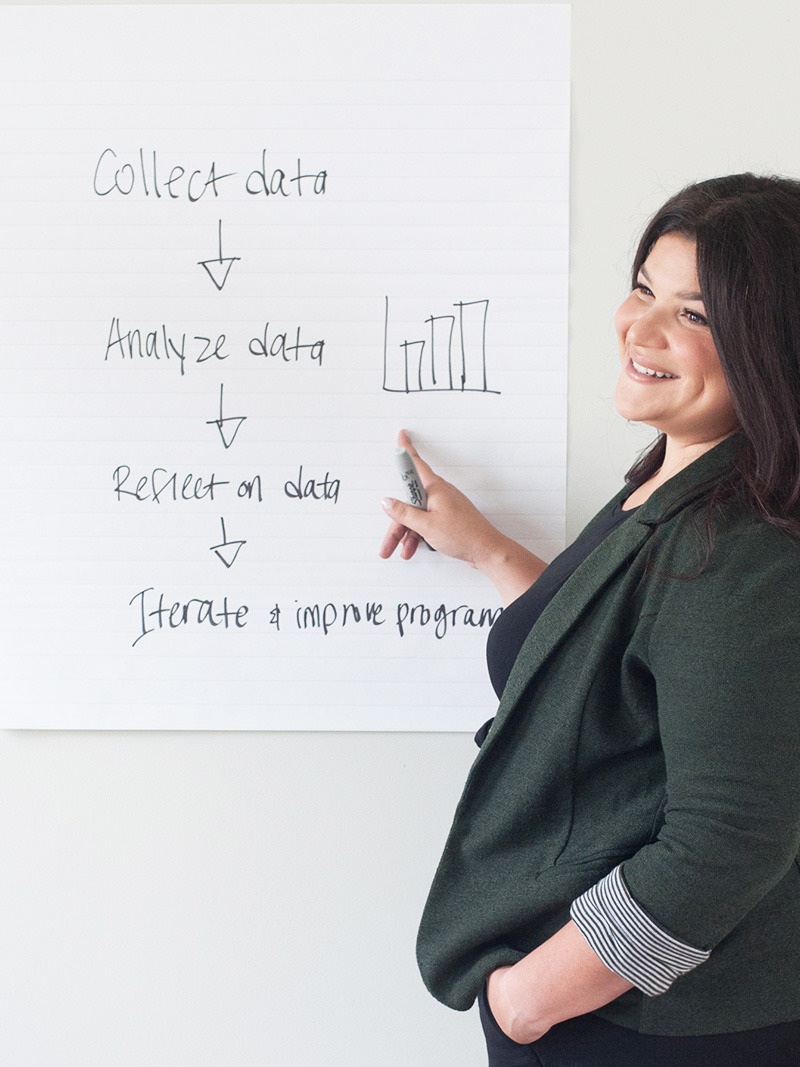 A GOOD FIT FOR YOU IF:
You need supplementing skills with a specific technical need, you see a professional development opportunity for your team, or you are interested in developing a culture of learning and evaluative thinking at your organization.
Sometimes you need another perspective to ensure you are developing sound, data-informed strategies that create measurable changes and ultimately advancing your work, mission, and goals.
Strategic Consulting engagements are designed to meet participants where they are and fill in real-time gaps. They range in length from one to six months, with the average engagement lasting three months.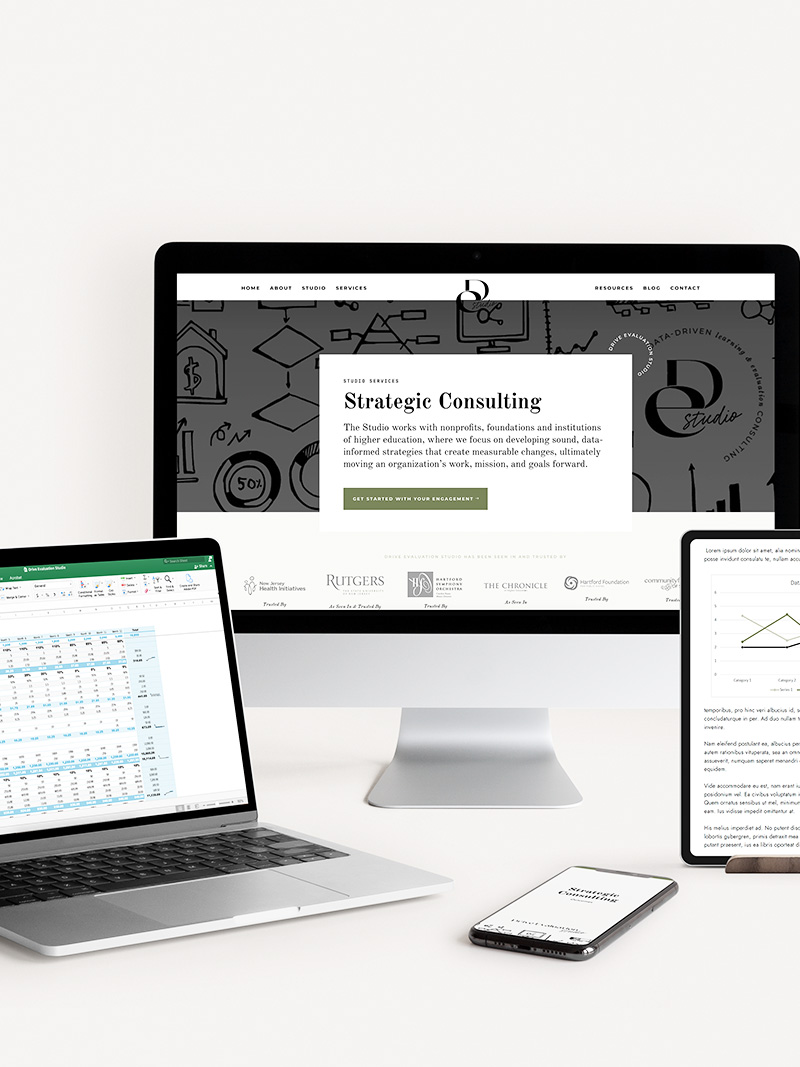 A GOOD FIT FOR YOU IF:
You need to develop strategies to create measurable changes to help move your mission and work forward.

Director of Future Scholars Program, Rutgers University
Our staff at the Community Foundation of South Jersey has repeatedly engaged Elena and the Drive Evaluation team to learn about the impact of our philanthropy and programs to improve our practice. We reach out to Drive Evaluation as a thought partner in program design and to capture learnings from programs.
Andy Fraizer
EXECUTIVE DIRECTOR – COMMUNITY FOUNDATION OF SOUTH JERSEY
When I think of Elena, I think of the characteristic you look for in the highest quality evaluator – versatility. During her time with us she's played many parts: project planner, discussion facilitator, capacity builder, instrument developer, logic model guide, thought-partner, data analyst, etc. Most importantly in these roles, she's brought an exceptional spirit of collaboration and kindness.
Dr. Kate Szczerbacki
DIRECTOR OF STRATEGIC LEARNING AND EVALUATION, HARTFORD FOUNDATION FOR PUBLIC GIVING

+ What is your evaluation consulting process?
The process is unique to each engagement based on the client's goals, strengths, needs, budget, and timeline. That said, all engagements will begin with level-setting and groundwork, and they will end with a reflection.
In the level-setting and groundwork phase, we operationalize our outcomes, talk about how we will work together, and use any existing information available to develop a foundation of knowledge.
In the reflection phase, we talk about what we learned and how it will be used, and we ensure the client feels empowered to continue their learning and evaluation efforts after our time together has ended.
There will be some additional phases (usually two to four) in between to get us to the intended outcome.
+ Why do you have phases in your process?
It's good practice in communication to provide feedback in a "sandwich" - good stuff, constructive stuff, good stuff again.
This way, regardless of the feedback you are providing, you are following a roadmap to do it. We think of consulting in a similar way - the elements of each phase will vary, but having phases lets a client know what to expect, when to expect it, and where they are in the process at any moment.
Studio phases are typically designed to map to different parts of an engagement, so they provide a point to pause.
At the end of each phase, we ensure we are on track and we use what we learned in the previous phase to enhance what we are doing next.
And like "a feedback sandwich," Studio engagements begin and end with specific things: we always start with level-setting and groundwork, and in the spirit of learning, we always end with a reflection. 
+ How does the Studio think about cultural responsiveness?
We believe strongly in equity – the belief that all individuals, regardless of identity, deserve an equal opportunity to contribute to and thrive in our society. This is a through-line in our approach to evaluation, teaching, capacity-building, and practice.
In our work, we continuously consider and review instruments, analyses, and reports to ensure the language, methodology, and approach reflect the people with whom we are working and the audiences who might engage with the products.  
More broadly in our engagements, we seek to understand how our culture, values, and experiences influence our perspectives and others' experiences of and with us. We check our assumptions, we seek out perspectives that do not align with ours, and we acknowledge that we are working in context – in real life – that is laden with systemic inequities. With each new partnership, we learn and continue to do this work.
+ You reference "flexibility" often; what does that mean?
Many engagements are executed exactly as they are designed. Others have to shift to respond to organizational and external factors that impact them (staff changes, an extended program timeline, even a global pandemic).
For as much as we are rooted in and committed to strong methodology, we understand that your work is happening in real-time and in real-life. We also know that learning happens as we work and from multiple places.
So, for the Studio, flexibility means staying true to the engagement design that will get us to our intended outcomes while creating space for iteration based on what is happening around us as well as what we are learning as we progress.
+ How long is a typical evaluation process/project?
This can vary drastically by client and by type of engagement. 
Evaluations are typically about 12 to 18 months, with a few that have lasted just four or five months and many that were multi-year efforts. 
Training and Capacity Building engagements range from discrete workshops for organizations (one to two days) to multi-year engagements working with various cohorts of stakeholders. 
Strategy Consulting engagements also have significant variability. These last at least three months and can go on for years. The record for longest Studio engagement is currently held by a long-term strategy consulting client - they have been working with the Studio for over seven years.
+ How often should we expect to meet with you?
As often as you'd like!
As part of our engagement, the Studio will provide you with milestones and levels of effort for each phase of our work together.The level of effort is the minimum amount of your time and effort that we will need to successfully achieve our collective goals.
We will ask to meet every time we transition between phases, whenever we have a deliverable, and in accordance with the level of effort and milestones we provide in our first phase. 
Beyond that, we will design a communication calendar that fits your needs. Some clients prefer standing meeting schedules (these range from every other week to once per quarter), while others like ad-hoc meetings as we move into various pieces of our work.
+ How much should be allocated for a Studio engagement?
While the financial investment is an important question, it is hard to separate it from the scope and goals of the engagement.
As a benchmark, clients typically allocate about 10-15% of their programmatic budget for evaluation engagements.
However, we create customized and tailored engagements for each of our clients based on what they hope to accomplish, the complexity of the work, what they already have in place, and the resources they have available.
+ What if we need an evaluation consultant, but we do not have enough in the budget?
Good evaluation is an investment, but sometimes your funds have already been earmarked for other important purposes.
Consulting efforts can range in scale, scope, and intensity, and their cost can be drastically reduced if you have existing databases, established outcomes and indicators, and can potentially take on discrete pieces internally with some training and capacity building of staff.
Inquire with us to discuss what you already have that you can leverage and what engagements might be possible. Minimally, we can share some strategies that you can employ now to be ready for an evaluation consultant in the future.
+ We have data from a previous evaluation, can we start there?
That depends on many factors. We can definitely talk about this.
Project or Engagement in Mind?
Our approach has always been to strengthen the places where we live, work, learn, and play through learning, evaluation, and applied research. We believe everyone should have the opportunity, data, and skills to achieve the outcomes they set out to reach.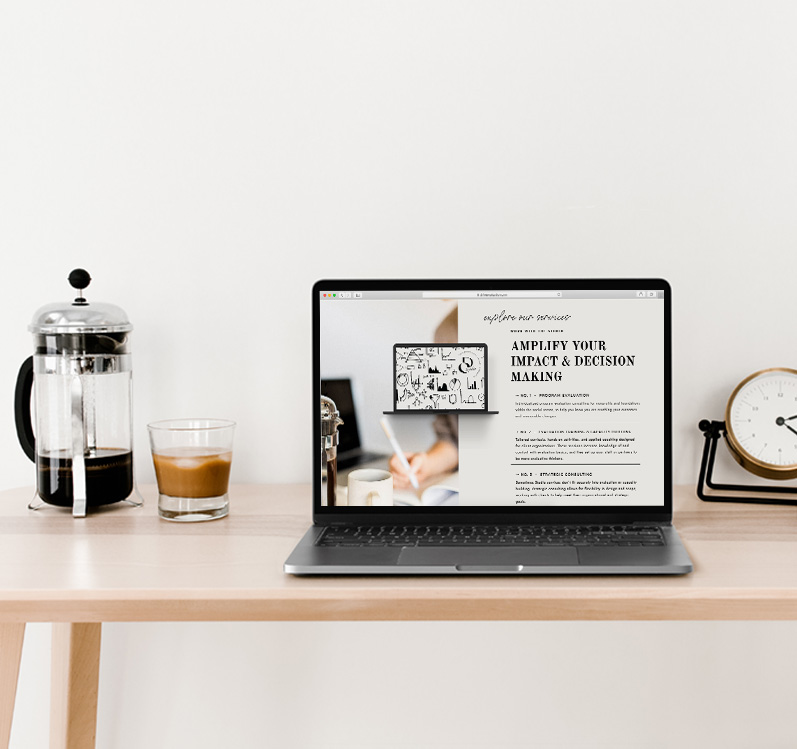 Insider access to exclusive content, what's happening at the Studio, data spotlights, tips, and more, only available to our email list when you join for free. We'll email approximately once a month.
We respect your privacy and will never share your name or contact info with anyone else.